Over the weekend we saw American Express offer up to $100 off your purchase of $500. That offer is still available, for now. But it may not be available much longer. You can read all the full details of the deal here. You can still register for that promotion following this link.
Chase Offer
Another new promotion has come up where you can use 1 Chase Ultimate Rewards point and get $15 back on your purchase of $60. You must spend $60 minimum for the promotion to kick in.  That is a 25% savings!  The same concept applies as with the American Express offer. You will need to make sure you Chase and Amazon accounts are linked. You can link your eligible chase card to your amazon account with this link. Not all members are eligible for this promotion, unfortunately I am not for some reason and I have both the Chase Sapphire Reserve and Preferred cards. UPDATE: 24 hours after linking my account, I am now eligible for the promotion
The Process
Activate the offer by clicking the "Click to activate" button on this page.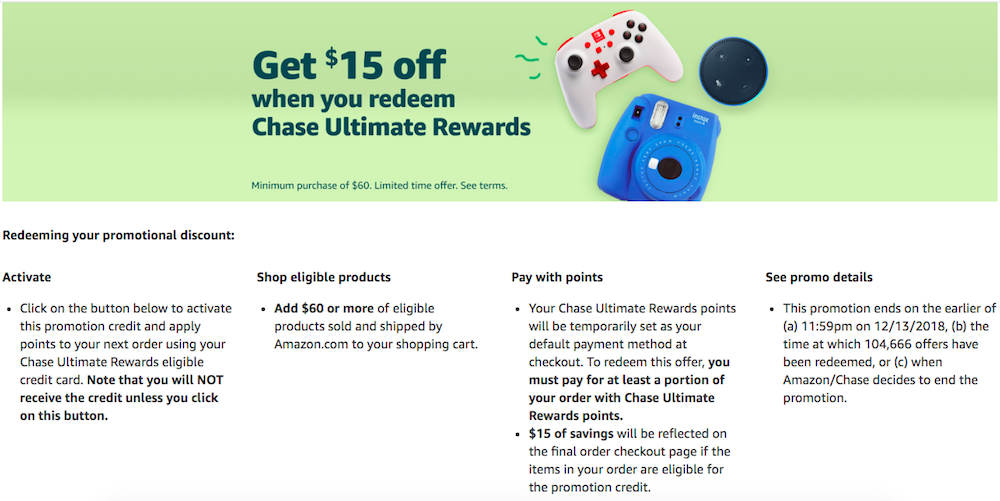 Add whatever eligible items you want to your shopping cart and head to the check out screen.
At check out you must use at least one Chase Ultimate Rewards point for your purchase. I recommend only using one point as Amazon only redeems points for around 1 cent per point and you can easily get higher value by transferring miles to airlines instead.
Make sure you don't accidentally pay for your entire purchase with points, as that would lead to a really bad deal. Your final cart should look similar to below.
How long will the offer be around?
The terms are a little more defined for this offer. It is valid until December 13, 2018 at latest although it can end earlier at Amazon's discretion or when 104,666 people have taken advantage of the offer.
Who Should take advantage of this offer?
Every one eligible should take advantage of this offer. Even if there isn't anything you need to buy on amazon, you can purchase 3rd party vendor gift cards with the credit. Amazon sells gift cards for  Hotels.com, Southwest Airlines, AirBnB, Whole Foods and more. This holiday season so far you have been able to save $115 by spending about $445 USD.
Savings like this don't come around often, so what are you waiting for?
Feature Image courtesy of Flickr via Tony Webster 
Advertising Disclosure: Many of the links that appear on this website are from companies which SamChui.com may receive compensation. This compensation may impact how and where products appear on this site (including, for example, the order in which they appear). The site does not review or include all companies or all available products.
Editorial Note: Opinions expressed here are the author's alone, not those of any bank, credit card issuer, airlines or hotel chain, and have not been reviewed, approved or otherwise endorsed by any of these entities.
Comment Disclaimer: The responses in each article are not provided or commissioned by the bank advertiser. Responses have not been reviewed, approved or otherwise endorsed by the bank advertiser. It is not the bank advertiser's responsibility to ensure all posts and/or questions are answered.