Advertising Disclosure: Many of the links that appear on this website are from companies which SamChui.com may receive compensation. This compensation may impact how and where products appear on this site (including, for example, the order in which they appear). The site does not review or include all companies or all available products.
I recently found myself flying between Miami and London 3 times in 3 different cabins within 1 week. It was completely unintentional but expect to see upcoming reviews from Miami (MIA) to London (LHR) onboard AA38 in Premium Economy and Business Class and in Flagship First from London (LHR) to Miami (MIA) onboard AA39. Of the 3 flights, I only managed to throughly enjoy one, partially due to the timing and the service, but more on that later.
Check-In
Check in at Miami International Airport is always a mixed bag. It can be super crowded or walk through empty, with no rhyme or reason. Thankfully it was pretty quiet for MIA on my arrival. As I was traveling in Premium Economy I was entitled to use the "Premium" check in lanes. AA separates premium lanes into 3 categories at MIA. Flagship International First, Non-Flagship First including Oneworld Emerald, and everyone else (Business Class, Premium Economy, Oneworld Sapphire and Ruby). With my TSA PreCheck I was through check-in and security within 15 minutes.
Lounge
American Airlines Premium Economy tickets don't come with lounge access. As a Oneworld Sapphire traveling on an international ticket, I was entitled to access the Flagship Lounge.
The Flagship lounge is located by gate D30.
The lounge was spacious but crowded, due to all the evening international flights
There was a large variety of food and beverage options. The one place where AA is lacking is that they don't have a bartender to make drinks, they offer just a walk up bar. Delta and United both offer bartenders in their premium lounge offerings.
There was a variety of seating options and power ports everywhere. For more photos of the Flagship Lounge check out my other post.
I also had access to the American Express Centurion Lounge thanks to The Platinum Card® from American Express. You can learn more about the card here. I find the American Express lounge is only useful when you are flying from Gates D1-D20 as it is a bit of a trek for other gates. The American Express lounge is usually so busy that you end up standing. Thankfully American Express is expanding the lounge in January 2019 as the lounge will be closed for 2 weeks to finish the expansion.
The Seat
Boarding was uneventful when you consider that we've all become complacent to the chaos of everyone standing up and surrounding the gate with the largest carry-ons luggage known to man. Soon enough I was onboard the largest plane of the American Airlines fleet, the 777-300ER (77W). The 77W has 304 seats on board spread out over 5 seating options.
| | | | | |
| --- | --- | --- | --- | --- |
| 777-300ER (77W) | # Seats | Layout | Width | Pitch/Bed Length |
| First | 8 | 1-2-1 | 21.5″ | 64″/78″ |
| Business | 52 | 1-2-1 | 20.5″ | 43″/75″-78″ |
| Premium Economy | 28 | 2-4-2 | 18.5″ | 38″ |
| Main Cabin Extra | 28 | 3-4-3 | 17.1″-18.1″ | 36″ |
| Main Cabin | 188 | 3-4-3 | 17.1″-18.1″ | 31″-32″ |
Waiting at my seat 16L upon boarding was a menu, bottle of water, Casper pillow and blanket and a pair of generic noise canceling headphones.
Onboard this 77W, the first row of Premium Economy is an exit row so all the seats have virtually unlimited amounts of legroom. The one downside to being in the exit row is that there really isn't a window for this seat.
The seats in the first row also all have leg rests as opposed to the foot rest offered for seats in the rest of the cabin.
Seat controls were simple. My one complaint is that it was easy to accidentally push buttons on the TV remote when seated.
Not sure why the remote is even necessary for these seats as the TV pops up from the center console, is touch screen, and ends up sitting about 1-2 ft in front of your face.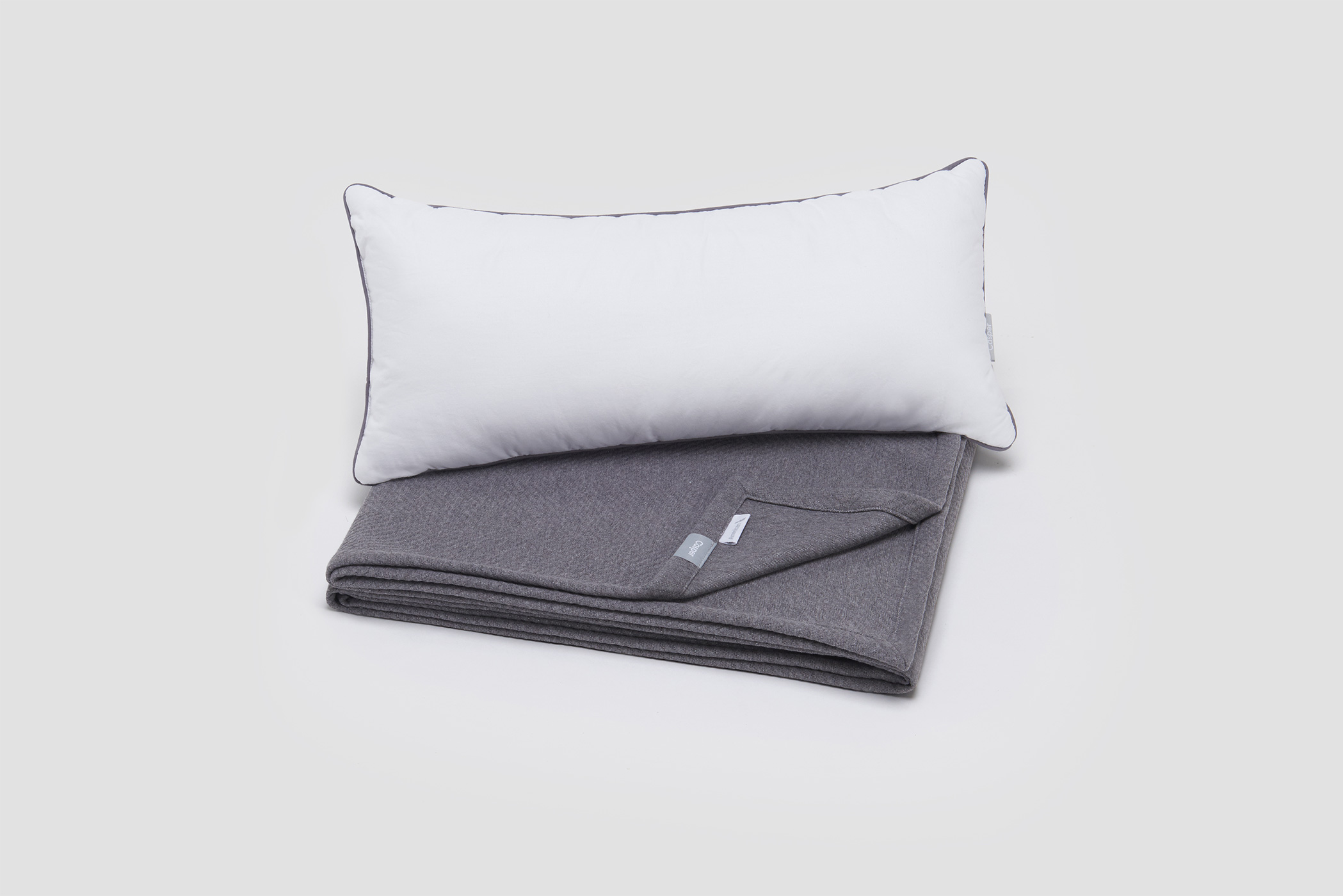 The casper bedding included a large heavy blanket and a long plush pillow. The blanket was nice but the pillow wasn't great for sleeping. The pillow did provide great back support.
Amenity Kit
It's nice to get an amenity kit in premium economy. That said American Airlines has some of the ugliest amenity kits known to man. The bag in the bottom right held all the item and said Cole Hann. There is no AA branding on the bags.  The good news is that it looks like they are replacing these kits in all cabins soon.  **Please bring back the Heritage kits!**
While the actual bag looked terrible the items in the bag included everything you could need. There was Co Bigelow travel essentials (moisturizers, etc,) a dental kit, eye shade, socks, ear plugs, and a coupon for $100 off a casper mattress.
Food & Beverage
Premium Economy passengers get to pre-order their meal choices up to 30 days in advance. If you don't like either of the options available you can choose from a variety of Specialty meals.
Service began about 30 minutes after takeoff. The flight attendants must have been at their first day on the job because they were beyond clueless about the service. They couldn't figure out what food was for Premium Economy and what was for Economy. It really should be a part of their pre-meal service to read the menu they distribute as they thought they were serving chicken at first. 
The meal started with a beverage service and I asked what the Seasonal Sam Adam's beer onboard was to which the flight attendant unenthusiastically responded, we only have one kind. It happened to be Octoberfest, while late to be serving in December was still better than the other options onboard. It came with a mini pretzel snack
The meal came about 20 minutes after the beverage. A quick service is a must for such a short overnight hop to London. For this flight I wish I had ordered a Specialty meal as the Slow-Roasted beef was anemic and nearly inedible. Also can we talk about presentation here? No color and that "beef" looks like its prairie dogging its way out. Gross.

I didn't wake up for breakfast as I didn't want to see what the fruit looked like after sitting in refrigeration for 8 hours. Who knows when it was actually prepared. If it was anything like dinner, I wouldn't have been happy.
As far as special meals go, I've heard good things about the Gluten-Free specialty meal. What's your go to AA Specialty Meal?
Cleanliness
I've heard of cleanliness horror stories in the past, but for the most part I haven't had it bad. On this plane that changed. When I arrived at my seat everything looked clean but as I spent more and more time, I discovered different things. The first thing I found was bread sticks from some previous meal stuck between the seats.
While definitely not well cleaned, it was forgivable as it was essentially hidden and tucked into the side of the seat. I wish that was the end of the story, but no. In the literature pocket to the right of the seat was a premium economy menu from a previous flight with GROSS used ear plugs stuck to it. 
This was the unforgivable sin as it wasn't something hiding, it was in plain sight. It should be standard practice for airlines to deep clean planes after any international flight of 7+ hours and clearly that didn't happen here. I felt uncomfortably dirty for the remainder of the flight.
In Conclusion
American Airlines has a good hard premium economy product just like all the other big 3 US airlines. Unfortunately the service elements is where AA really fell short. On the ground I enjoyed my time in the Flagship Lounge. In the air, not only were the flight attendants untrained, but the food was inedible, and the plane was just downright dirty. I would still fly in premium economy over economy any day of the week but the price has to be right. So far Premium Economy ticket costs have been marginally above that of a coach seat, making it largely worth the cost. Couple that with extra room to breathe and earning valuable elite qualifying miles makes buying a  premium economy ticket almost a no brainer.
Editorial Note: Opinions expressed here are the author's alone, not those of any bank, credit card issuer, airlines or hotel chain, and have not been reviewed, approved or otherwise endorsed by any of these entities.
Comment Disclaimer: The responses in each article are not provided or commissioned by the bank advertiser. Responses have not been reviewed, approved or otherwise endorsed by the bank advertiser. It is not the bank advertiser's responsibility to ensure all posts and/or questions are answered.