US aircraft manufacturer Boeing's order cancellations continue to mount, amidst the coronavirus pandemic, with over 150 orders scrapped for the 737 MAX aircraft in March alone, Reuters reports.
Summary of First Quarter Cancellations
Aircraft Type
Number of Cancellations
Airlines
737 MAX
191
Avolon, GOL, Gulf Air
Air Canada, Japan Investment Advisor, Air Lease
787 Dreamliner
4
Gulf Air
777
1
LATAM
747 Freighter
4
To Be Determined
Total
200
(Table Sources: CNN, FlightGlobal, CNBC, Reuters, and Defense & Security Monitor). NB: Boeing received no orders or cancellations in January.
737 MAX Cancellations
Major order cancellations began with Irish aircraft-leasing company Avolon, cancelling their commitments to purchase 75 737 MAX aircraft.
"The net impact of our actions in the first quarter is to reduce our aircraft commitments in the 2020 to 2023 time frame from 284 aircraft, as at year end, to 165 aircraft today and thereby significantly reducing our near-term capital commitments."

Avolon press release
Subsequent order cancellations came from Brazillian budget airline GOL, who cancelled orders for 34 of 135 737 MAX aircraft ordered (Reuters). GOL has agreed to provide cash compensation to Boeing in the wake of the cancellations.
GOL carries approximately 35 percent of Brazilian domestic air traffic. In a statement provided to Reuters, GOL expressed their loyalty to Boeing's 737 MAX program.
"GOL remains fully committed to the 737 MAX as the core of its fleet and this agreement further enhances our successful long-term partnership with Boeing,"

Paulo Kakinoff, GOL CEO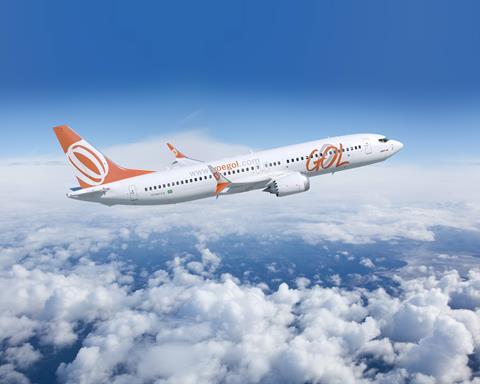 Of note, both Oman Air and US-based Air Lease swapped their 737 MAX aircraft for the 787-9 Dreamliner aircraft.
Widebody Aircraft Cancellations
FlightGlobal has reported that at the end of the first quarter, Boeing currently has 307 aircraft cancellations overall.
Bahrain's flag carrier, Gulf Air, cancelled an order for 4 Boeing 787-9 Dreamliner aircraft in mid-February. The airline currently operates 7 Dreamliners, which are the mainstay of their long-range flight operations.
The majority of delivery deferrals in March came from the 737 MAX aircraft; however 15 are Boeing widebody jets and there were 4 cancellations of 747-8 Freighters, according to CNN.
Boeing has attained a negative aircraft order total of 147, with 49 new orders in March, including 12 787 Dreamliners.
Boeing Orders for Q1 2020
| | |
| --- | --- |
| Aircraft Type | Order Quantity |
| 737 | 18* |
| 767 | 1 + 1 (Freighter) |
| 787 | 29 |
| Total | 49 |
(Table Source: Boeing Press Release and Reuters) *: All 737 orders were pre-MAX variants to be used for the P8 Poseidon patrol aircraft.
Boeing's first quarter has been turbulent, with only 50 commercial aircraft delivered, a mere third of 149 aircraft deliveries made in the first quarter of 2019.
Boeing and rival giant Airbus have both decreased their aircraft production capacity, amidst the coronavirus pandemic.
Article Sources: Reuters, Avolon Q1 Media Release, Boeing Q1 Orders, FlightGlobal, CNN, Defense & Security Monitor, CNBC, Puget Sound Business Journal and IBD. Feature Image: Flickr/Liam Allport