This is a partner sponsor post from SeatSpy
Spending hours trying to find award seats by clicking through different dates on an airline's website, is a frustrating and infuriating waste of time. SeatSpy is a powerful tool built to make a traveller's life easier when searching for award seat availability. It is fast, easy to use and powerful!
What is SeatSpy?
Here's what SeatSpy can do:
Powerful and Easy Award Seats search with many airlines (British Airways, Virgin Atlantic, KLM, Air France, American and United + more on the way)
Full 12-month calendar view of seats by cabin
Ability to check availability across an entire airline's route map
Alerts via Email, SMS and Whatsapp (paid)
Where can I go feature (paid)
How It Works?
You can choose to search for seats on flights operated by: British Airways, Virgin Atlantic, Air France, KLM and most recently American Airlines and United.
For example, here's what an American Airlines search from London to New York looks like:
Simply enter the class of service, amount of seats required (from 1 to 9) and whether you want one-way or return.
You don't have to enter dates or cabins, the powerful features of SeatSpy will show all seats available for an entire year and across all cabins! No more clicking through day-by-day to see what's available.
Within 10 seconds, the seat availability will show across a 12 month calendar! Simply hover your mouse on the date of travel to check the availability; when you hover over a date, this will give you a quick glimpse of seat availability, cost and taxes.
When you click on the date, there is a link to take you to the airlines website. In the above instance you would go direct to American Airlines website to book. It is as simple as that! SeatSpy allows you to perform limited free searches to be familiar with the tool.
Where Can I Go? - Paid Feature
Do you have lot of miles and are looking for some inspiration on where to go? SeatSpy has a great tool to help you with that.
All you need to do is to input the airline of choice, your origin, choice of cabin, the number of passengers and the dates desired. SeatSpy will then find all the available destinations open to you and you can decide where to go with your miles!
Alerts to Save Time - Paid Feature
Getting desirable Premium Class seats can often be quite challenging, you also need to be fast to grab an award seat when one opens up.
You can set alerts for exactly what you're looking for and, if those seats become available, Seatspy will email, whatsapp or SMS you to let you know. This can save you a lot of time, especially when compared to repeatedly going back to the airlines site to check for any changes in availability.
Special Founder Member Offer - Feb 15th to 22nd Only
SeatSpy is launching a Founder Members offer, starting February 15th and remaining open until February 22nd. This means that anyone who signs up to any of SeatSpy's membership packages will receive a lifetime discount for their chosen subscription.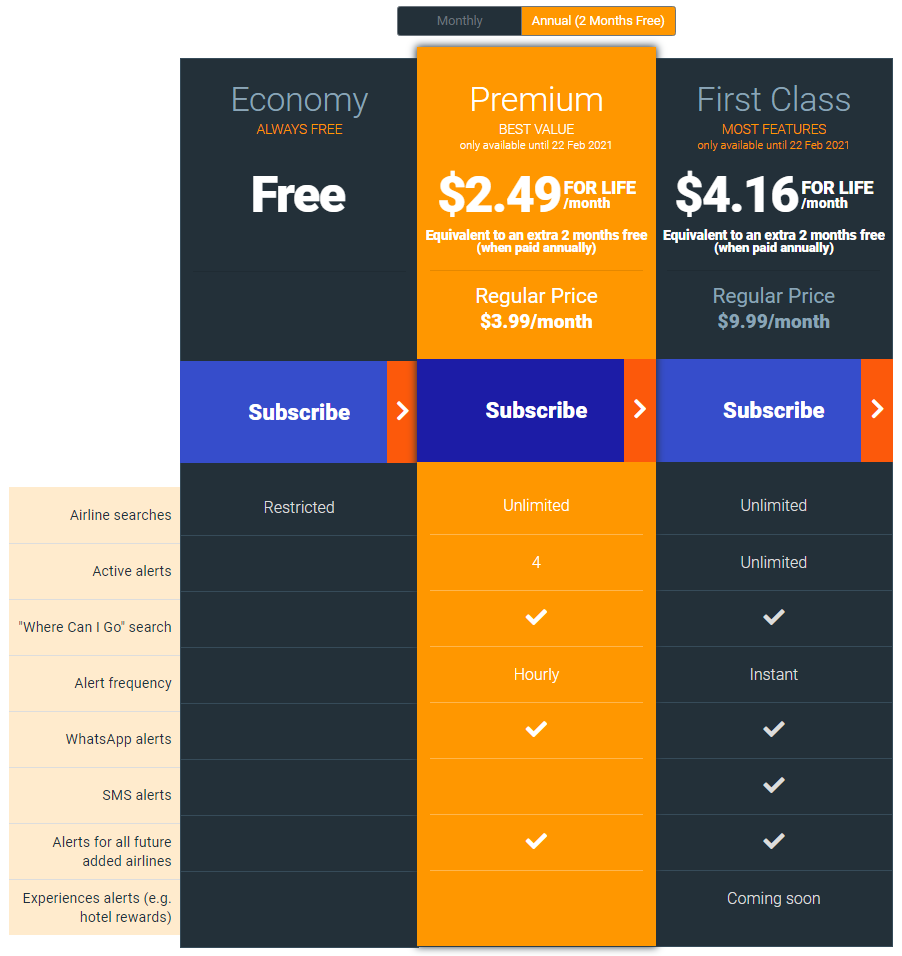 To take advantage of this offer click here to see the SeatSpy membership levels, remember to sign up before February 22nd.
Give it a try and you will agree!
SeatSpy is a powerful and valuable tool. It saves me a lot of time when searching for award seats. If you've ever been in the position where you thought "I can never use my points and miles" then the ability to rapidly check availability on a route across an entire year, or check availability across an entire airline's route map, with the click of a button is invaluable. Give it a try today and you will agree.
This is a partner sponsor post from SeatSpy