Reported by Chris Sloan - After two years in the making, David Neeleman's Breeze Airways finally launched into the skies on Thursday; thus becoming the nation's sixth low-cost carrier. Breeze launches just one month after Avelo Airlines entered service.
The inaugural took place from Tampa, FL to Charleston, SC today 27th May.
Though the US airline industry collectively lost over $35 billion in 2020, it is in the nascent days of recovery mode particularly in the low-cost VFR and leisure sector that Breeze is focusing on.
"There's a segment of the market that's doing a lot better than others. So Breeze makes sense given the deal we have on airplanes, the availability of staff, pilots and the need in certain markets that were actually being abandoned before the pandemic, but has only hastened during the pandemic."

David Neeleman, CEO and Chairman of Breeze Airways
Breeze's business model and route network has similarities to that of Allegiant, which had become one of the most profitable in the world with operating margins approaching 30%. Its strategy is connecting underserved small to medium-sized cities to leisure destinations with low-cost service, though using initially using smaller gage Embraer E190 & E195 aircraft on shorter than two hour stages.
Breeze intends to operate 39 nonstop routes between 16 cities by the end of July, using 13 surplus aircraft from Neeleman's Brazil airline, Azul. The start-up boasts that 95% of the routes have no nonstop competition. Flights will be point-to-point and avoid major hubs.
The Embraer fleet, purchased at 25% of the cost of new from sister carrier Azul and leased from Nordic Capital with Power by the Hour, gives Breeze a CASM and trip cost advantage not normally associated with the smaller E-Jets. These aircraft that have been a cost disadvantage to other carriers are a secret weapon for Breeze.
"We think we have a 20-25% cost advantage over Allegiant which means low fares and We're going to have really low introductory fares just to kind of get people excited as low as $39."

David Neeleman, CEO and Chairman of Breeze Airways
This low capital cost makes low fleet utilization a reality, for the thin markets Breeze is entering.
"We don't need to fly 12 hours a day. We can fly 4-5 hours a day on average and do fine."

David Neeleman, CEO and Chairman of Breeze Airways
Breeze's aircraft will even stay on the ground during off peak days, a concept unheard of at the major carriers.
The airline will begin with a hybrid approach to the unbundled mode with two fare buckets branded "Nice" and "Nicer". "Nice" will be a basic fare ala Spirit or Frontier with just the seat and a carry-on personal item included. Seats will have 29" to 31" of pitch, less than that of JetBlue or Southwest but more than Spirit and Frontier. "Nicer" will add an extra legroom seat with between 32" and 39" of legroom, a drink and snack, priority boarding and a carry on bag.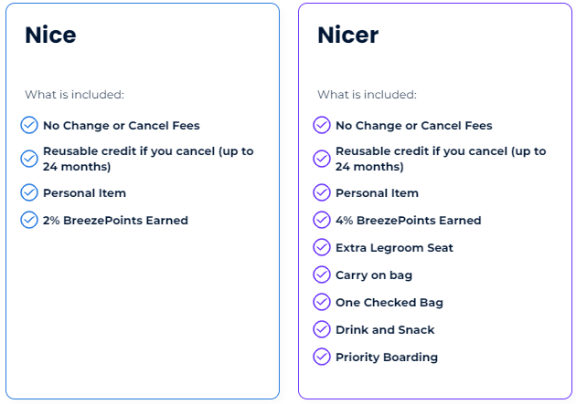 Breeze's contrarian approach extends to luggage. Bags will be priced at $20 per bag, for up to three bags; regardless of whether they are checked or carried on.
Neeleman's JetBlue introduced inflight live TV to the mass flying public, which was a huge differentiator when it was introduced in 2000. Instead of embedded seatback screens Breeze has a live streaming product to passenger's personal electronic devices, not unlike that of Southwest.
A220
Once the first of 80 Airbus A220s begin to arrive in the Fall, the airline's route network, stage length and passenger experience will evolve. The A220s will fly on missions of three to seven hours, with the capability to fly to Europe, Hawaii, deep South America and transcontinental nonstops.
A third class will arrive with the A220s called "Nicest" with First Class seats, internet connectivity and other inflight service touches to be announced later.
"The inflight experience will get more sophisticated and interesting when we get the A220s and longer flights. We'll have a menu and you can pick all your meals from your seat, internet and even First Class seats."

David Neeleman, CEO and Chairman of Breeze Airways
Most college educated airline?
The world's nicest airline might also be the world's most college educated airline, at least as far as cabin crew are concerned. In a truly radical move, Breeze had planned for its flight attendants to essentially all be paid college students.
The airline partnered with Utah Valley University to create a paid college remote learning program, to earn a four-year degree while flying for the airline. The cabin crew will be paid a salary of $1,200 to $1,600 per month, depending on how many hours they work, provided housing at their base, ride sharing credits to go to the grocery store and flight transportation home each month to see family.
What they won't be given is a career as cabin crew. "We want to help them while they're getting their degree. Once they get their degree, we want to be there to help them with that next step and if that's with Breeze in marketing, inflight or HR and they'll be moved to the top of the interview list because we've seen what their able to do" said Alex Hill, head of leadership development.
With the limited out and back flying schedule from their base of five to six hours per day and 15 days off per month, the students will have plenty of time for their remote classwork.
The cabin staffing plan has been controversial and not altogether a success. It has attracted the ire of the American Flight Attendants union and has had difficulty attracting enough students, so Breeze is supplementing those staff with a more traditional recruiting program.
Reported by Chris Sloan/AirChive.net. All Photo by Chris Sloan
TheAirchive.Net is the webseum of commercial aviation. This #AvGeek paradise include vintage timetables, route maps, brochures, historic flights, airport terminals, airplane cabins, virtual tours of airline maintenance bases, training facilities and headquarters, bricks and mortar museums, final assembly lines, pics of airplane graveyards, models o' plenty, safety cards, menus, and of course special flights and events. You name it, you search it, you browse for it, It's probably in there.