In this summary post, we summarize major orders, agreements, highlights and announcements from the Farnborough Air Show 2022.
Delta Air Lines Orders 100 Boeing 737 MAX Jets
Kicking off day one of the 2022 Farnborough Airshow, Boeing announced a deal with Delta for up to 130 Boeing 737 MAX 10 aircraft. The deal consists of 100 firm orders along with options for an additional 30 aircraft.
Delta's firm order for 100 MAX 10 aircraft is valued at about $13.5 billion at list prices with the delivery starting from 2025. These MAX 10 jets will be powered by the next-generation LEAP-1B engines manufactured by CFM International and they will be 20%-30% more fuel efficient than the retiring Delta planes they will replace.
The MAX 10 jets will be deployed in core hubs including New York, Boston, Atlanta, Detroit, Minneapolis-St. Paul, Seattle and Los Angeles, according to Delta.
ANA Finalized Orders For Boeing 737 MAX and 777-8 Freighter
Boeing and ANA HOLDINGS, the parent company of All Nippon Airways (ANA), finalized an order for 20 Boeing 737 MAX 8 jets, with 10 options at the Farnborough International Airshow. In addition, ANA also converted two orders for the 777-9 passenger aircraft to the new 777-8 Freighter.
ANA became the first Japanese customer of the 737 MAX and also the first carrier in Asia to choose the 777-8 Freighter. However, this order was previously listed as unidentified on Boeing's Orders and Deliveries website.
Japan's Feel Air Signed a Letter of Intent for 36 ATRs
ATR has signed a Letter of Intent (LOI) for up to 36 aircraft with Feel Air Holdings at the Farnborough Air Show. Feel Air has chosen ATR aircraft for their excellent performance as a route opener.
Feel Air is a new Japanese regional airline holding company created to revitalise Japan's regions. Feel Air will use its unique franchise business structure to gradually establish a family of regional airlines that will cover different areas within Japan.
The LOI confirms Feel Air's commitment to the exclusive use of ATR aircraft for its domestic operations, with a fleet that will consist of both ATR 42-600 and ATR 72-600 aircraft, as well as the short take-off and landing variant, the ATR 42-600S, for easier access to smaller regional airports.
De Havilland Canada Launches Dash 8-400 Cargo Conversion Solutions
De Havilland Canada has launched three cargo conversion solutions for the Dash 8-400 aircraft. The solutions include Quick Change (QC), Package Freighter (PF) and Freighter with Large Cargo Door (F-LCD) configurations to cope with a variety of operational business models.
Day 2
777 Partners Order Up To 66 Boeing 737 MAX Jets
Boeing and 777 Partners announced a new order and commitment for up to 66 737 MAX jets, including a firm order for 30 ultra-efficient, high-capacity 737-8-200s. The investment firm ordered the high-capacity 737-8-200, to grow operations by increasing revenue potential while reducing carbon emissions, fuel consumption and operating costs.
"This new order marks another milestone in the robust growth of our aviation businesses and concurrently, our partnership with Boeing. We are excited about the possibilities the MAX aircraft provide our growing group of carriers to facilitate and democratize low-cost travel around the globe while respecting our commitment to sustainable flying," said Josh Wander, managing partner of 777 Partners.
777 Partners is a Miami-based private investment firm that has invested in Flair Airlines, Canada's only independent ultra-low-cost carrier, and Bonza Airline, an Australian start-up that will launch operations this year. 777 Partners has used the MAX jets to launch flights to several destinations around the world.
AerCap Orders Five B787-9
AerCap ordered five additional 787-9 jets, boosting its 787 Dreamliners portfolio to 125 787 Dreamliners.
"AerCap is the world's largest 787 customer…this transaction is in line with our portfolio strategy of investing in the most in-demand new technology assets and will help us continue to support our airline customers meet their sustainability commitments," said Peter Anderson, Chief Commercial Officer of AerCap.
Aviation Capital Group Order 12 737 MAX 8
Aviation Capital Group LLC (ACG) has placed an order for 12 additional 737 MAX 8. The order was previously unidentified on Boeing's Orders and Deliveries website.
Today's announcement will see ACG expand its 737 MAX order book to 34 airplanes, building upon order for nine 737-8s in May 2022.
BBAM Orders 9 More 737-800 BCF
Boeing and BBAM Limited Partnership (BBAM) today announced the lessor is growing its 737-800 Boeing Converted Freighter (BCF) fleet with a firm order for nine more 737-800BCF. The agreement brings BBAM's 737-800BCF orders to 40 as strong demand for the single-aisle freighter continues.
BBAM will be the first customer to take delivery of a 737-800BCF conversion at a new conversion line set to open next year at KF Aerospace, a maintenance, repair and overhaul (MRO) provider in Kelowna, British Columbia. Last year, Boeing announced it would open two 737-800BCF conversion lines at KF Aerospace beginning in 2023.
The 737-800BCF carries more payload – up to 23.9 tonnes (52,800 lbs.) – and flies farther – 2,025 nautical miles (3,750 km) compared to 737 Classic freighters.
Porter Airlines Orders 20 Embraer E195-E2s
Porter Airlines has placed a firm order for 20 Embraer E195-E2 passenger jets, adding to their existing 30 firm orders. The deal, with a list price value of US$1.56 billion, brings Porter's orders with Embraer to a total of up to 100 E195-E2 aircraft, with 50 firm commitments and 50 purchase rights.
Porter Airlines will be the North American launch customer for Embraer's newest family of jets, the E2. Porter intends to deploy the E195-E2s to popular business and leisure destinations throughout Canada, the United States, Mexico and the Caribbean, from Ottawa, Montreal, Halifax and Toronto Pearson International Airport.
Porter's first delivery and entry into service are scheduled starting in the second half of 2022. The E195-E2 accommodates between 120 and 146 passengers. Configuration plans for Porter's E2s will be revealed in due course.
Alaska Air Group Orders 8 New E175 Aircraft
Alaska Air Group announced plans to grow its regional fleet with an order of eight new additional E175 jets and options for 13 more. The E175 aircraft will fly exclusively for Alaska Airlines under a Capacity Purchase Agreement (CPA) with Horizon Air. The value of the contract, including options, is USD 1.12 billion based on the list price. Horizon's new 76-seat aircraft from this order will be delivered in Alaska's livery and three-class configuration over the next four years starting in Q2 2023.
Earlier this year, Horizon Air announced it would move to a single fleet of all E175 jets. The carrier currently flies a mix of 31 Bombardier Q400 turboprop aircraft and 30 E175s.
Delta Air Lines Orders 12 A220s
Delta Air Lines has firmed up orders for 12 A220-300 aircraft, bringing Delta's total firm order for A220s to 107 aircraft – 45 A220-100s and 62 A220-300s. The A220s will be powered by Pratt & Whitney GTF™ engines.
Delta took delivery of its first Airbus A220 in October 2018 and was the first U.S. carrier to operate the aircraft type. As of the end of June 2022, Delta was operating a fleet of 388 Airbus aircraft, including 56 A220 aircraft, 249 A320 Family aircraft, 57 A330s and 26 A350-900 aircraft.
Boom Supersonic Revealed New Overture Design
Boom Supersonic has announced the updated design of Overture with 4 engines. Carrying 65–80 passengers at twice the speed of today's airliners, Overture will fly Mach 1.7 over water with a range of 4,250 nautical miles.
Boom further said that the new design is the culmination of 26 million core hours of simulated software designs, five wind tunnel tests, and the careful evaluation of 51 full design iterations resulting in an economically and environmentally sustainable supersonic airliner.
Airbus, CFM Team to Collaborate Open Fan Engine Flight Test on A380
Airbus and CFM International are collaborating to flight test CFM's cutting-edge open fan engine architecture on board an Airbus A380. The Flight Test Demonstrator is aimed to mature and accelerate the development of advanced propulsion technologies, as part of CFM's Revolutionary Innovation for Sustainable Engine (RISE) demonstration programme.
The flight test campaign is planned to be performed in the second half of this decade from the Airbus Flight Test facility in Toulouse, France. Before performing the test flight, CFM will perform engine ground tests, along with flight test validation at GE Aviation's Flight Test Operations centre in Victorville, USA.
"New propulsion technologies will play an important role in achieving aviation's net-zero objectives, along with new aircraft designs and sustainable energy sources," said Sabine Klauke, Airbus Chief Technical Officer.
"By evaluating, maturing and validating open fan engine architecture using a dedicated flight test demonstrator, we are collaboratively making yet another significant contribution to the advancement of technology bricks that will enable us to reach our industry-wide decarbonisation targets," Klauke added.
The flight test campaign's objectives include enhanced understanding of engine/wing integration, aerodynamic performance, and propulsion system efficiency gains; validating performance benefits and improved fuel efficiency for a 20% reduction in CO2 emissions over today's most efficient powerplants; evaluating acoustic models; and ensuring the open fan engine's compatibility with 100% SAF.
Day 3
Azerbaijan Airlines Signed MOU for 4 Additional Boeing 787 Dreamliners
Kicking off day three at the Farnborough Airshow, Azerbaijan Airlines has signed a Memorandum of Understanding (MoU) for four additional Boeing 787-8 Dreamliners. The Azerbaijan flag carrier which currently operates two 787-8s plans to grow its Dreamliner fleet to 10 by 2030, enabling it to open new routes across Central Asia.
Azerbaijan Airlines was the first airline in the Caspian and Central Asia region to operate the 787-8 Dreamliner.
easyJet Confirmed Orders for 56 Airbus A320neos
easyJet, the world's largest airline operator of Airbus' single-aisle aircraft has confirmed a firm order for 56 Airbus A320neo Family aircraft as part of its fleet renewal. This deal also includes an upsizing of 18 A320neo to the larger A321neo model.
Day 4
LATAM Airlines Orders 17 Airbus A321neos
LATAM Airlines has ordered 17 additional Airbus A321neos, bringing the airline's total A320neo order book aircraft to 100 aircraft. The airline has also confirmed to take delivery of the A321XLR to complement their long-haul operations.
Qatar Airways Finalize Order for 25 737 MAX Aircraft
Boeing scored yet another order for its largest single-aisle model from Qatar Airways, continuing its outstanding performance at Farnborough Airshow 2022. The Gulf carrier finalized a deal for 25 Boeing 737 MAX 10 aircraft, with options for a further 25 aircraft of the type.
"We are honoured that Qatar Airways has decided to add Boeing's single-aisle family to its fleet, deepening our relationship with this world-class airline. The 737-10 is ideally suited for Qatar Airways' regional network and will provide the carrier with the most capable, most fuel-efficient airplane in its class," said Stan Deal, Boeing Commercial Airplanes president and CEO.
Cargolux Selects 777-8 Freighter for 747-400 Replacement
Wrapping up the show at Farnborough, Cargolux announced that it has selected the 777-8 Freighter as the preferred solution to replace its ageing 747-400 fleet. The exact numbers of the order will follow at a later date. The largest European all-cargo airline currently operates a fleet of 30 747-400 and 747-8 Freighters.
"With the 777-8 Freighter being the preferred solution to replace our 747-400s, Cargolux is looking forward to continuing its ongoing relationship with Boeing," said Richard Forson, president and CEO of Cargolux.
Boeing launched the 777-8 Freighter in January and has booked more than 50 orders for the type, with Qatar Airways inking a landmark order for up 34 freighters.
Cargolux Selects 777-8 Freighter for 747-400 Replacement
Embraer also confirms the first operator for its E190F Passenger to Freighter programme with Nordic Aviation Capital signing a MOU to place the first two E190F passenger-to-freight conversions with Astral Aviation, based in Nairobi, Kenya.
Flying Displays
Boeing 777X and 737 MAX 10
Boeing brought two of its commercial aircraft to this year's Farnborough Airshow. Both the Boeing 777X and 737 MAX 10 made their first appearance in the United Kingdom at the airshow.
Qatar Airways also displayed its Boeing 777-300ER (FIFA World Cup 2022 Livery), 787-9 Dreamliner and Qatar Executive Gulfstream at the airshow.
Airbus A350-900 and A220-300
Airbus brought its A350 test aircraft for display flights throughout the show. Besides, the European planemaker also showcased an ITA Airways A350-900 and an AirBaltic A220-300 aircraft on the ground.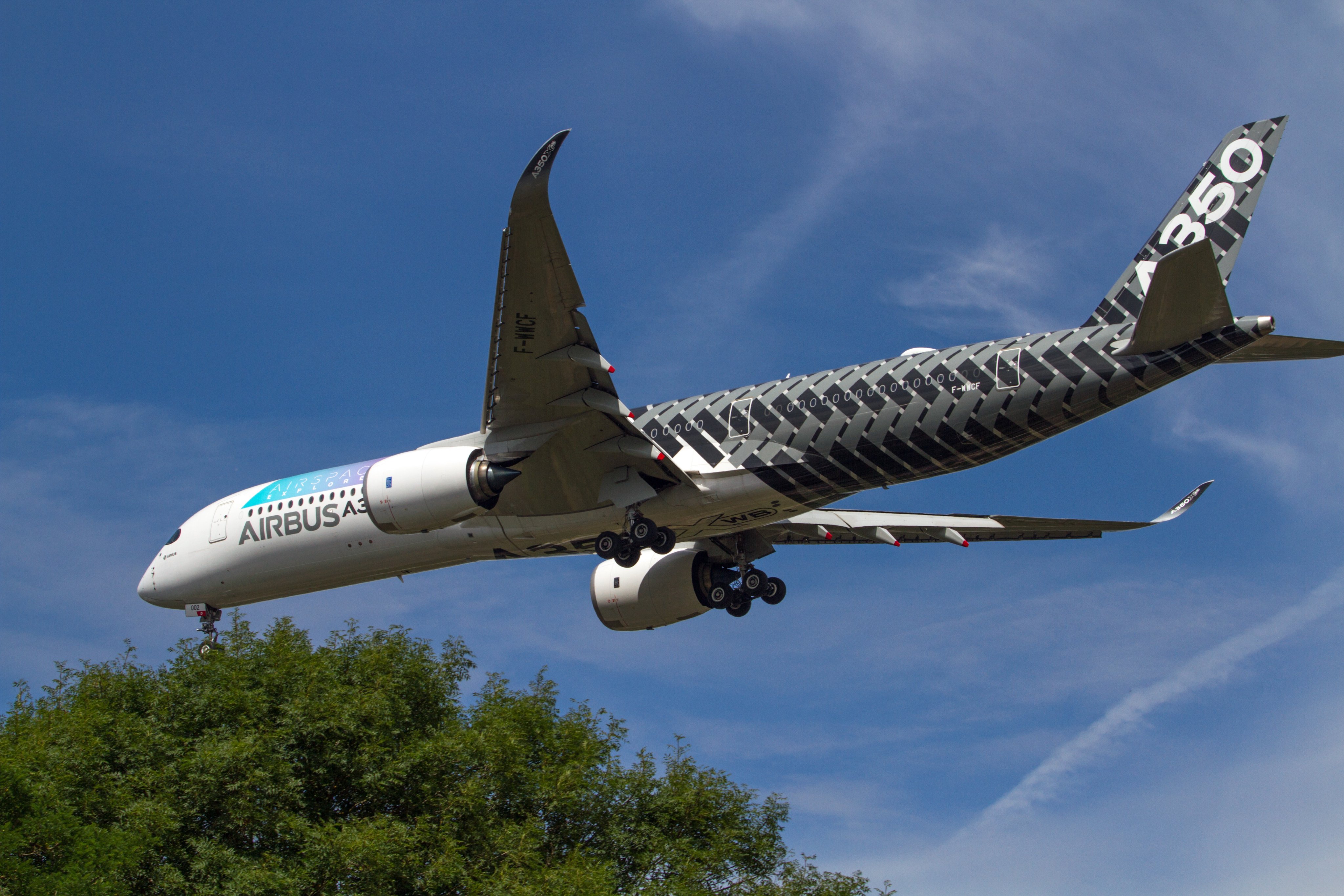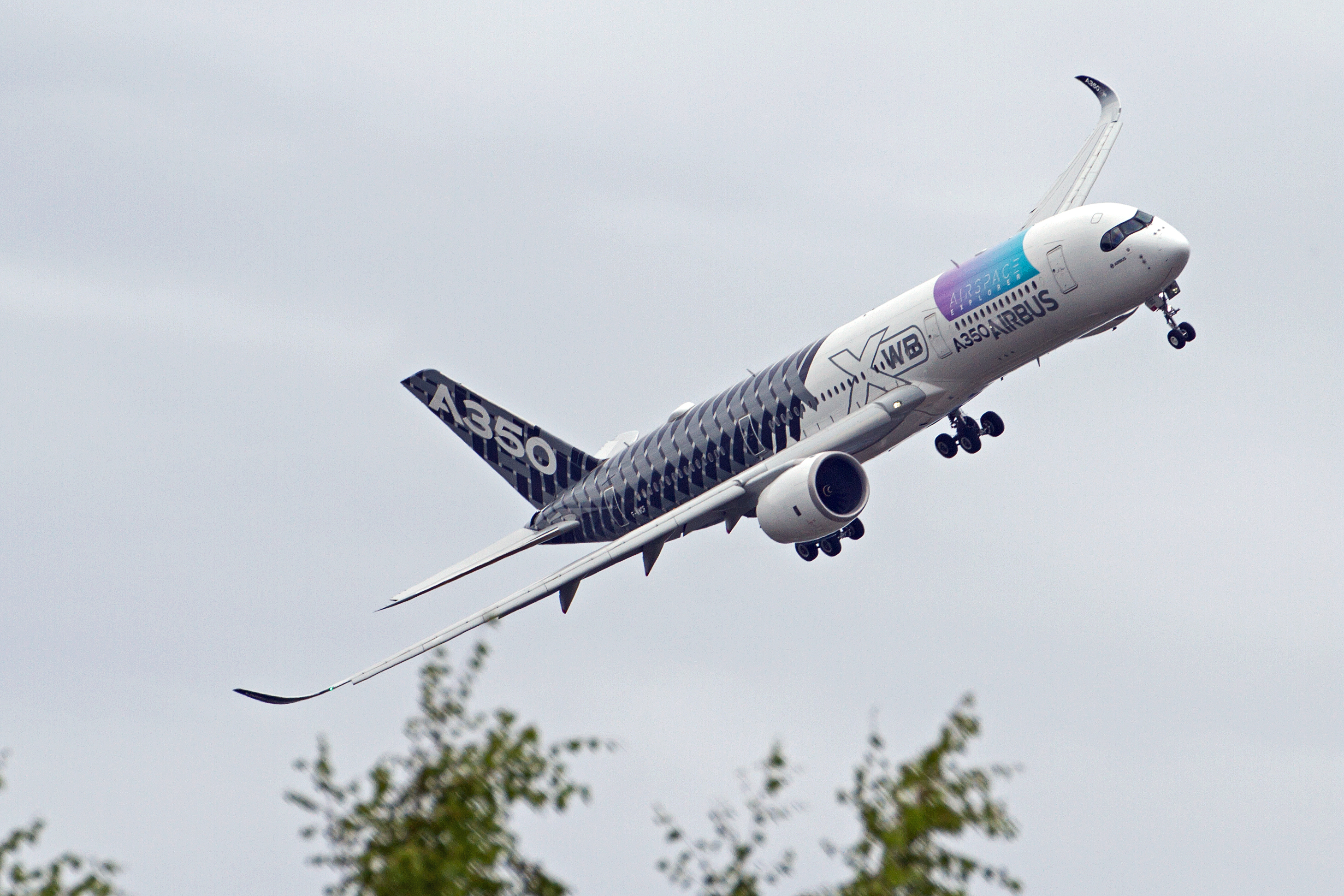 Embraer
Embraer's E190-E2 TechShark performed a flight display using Sustainable Aviation Fuel at the airshow.