This post was brought to you by Simple Flying.
Whether it's to take the perfect photograph or merely to feel a plane's raw power, many avgeeks love getting as close to aircraft as possible. St Maarten in the Caribbean is famous among both planespotters and the general public for its low approaches and powerful jet blast departures. However, did you know that a Greek island features similarly extreme spectacles? Let's take a look at Skiathos Airport.
Setting the scene - where is Skiathos?
Skiathos is a small Greek island situated in the northwest Aegean Sea. It forms part of a group of islands known as the Northern Sporades. Alongside Skiathos, the largest islands in this group are Alonnisos, Skopelos, and Skyros.
These four islands are the only ones among the 24 that make up the Northern Sporades that are permanently inhabited and are also known as the Thessalian Sporades. The shortest distance from Skiathos to the Greek mainland is less than five kilometers (three miles). Mainland Greece can be found just to the west of the island in the form of the Pelion peninsula in the region of Magnesia.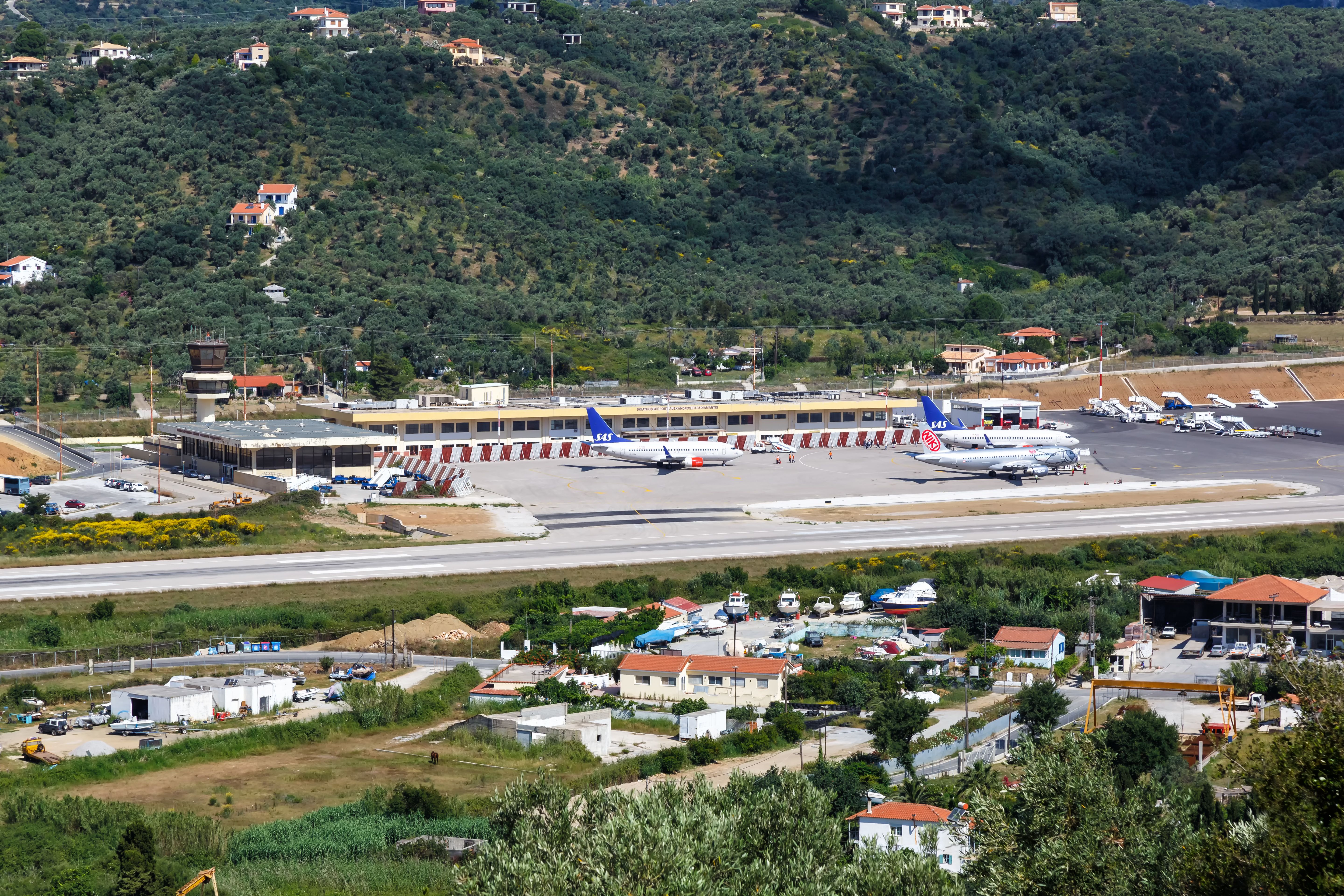 Along with neighboring Skopelos to the east, the island is known for having been a filming location for the 2008 musical romantic comedy film Mamma Mia. However, according to Heather On Her Travels, the sequel was filmed in Croatia on the island of Vis, with the reason given for this change being financial considerations.
The need for an airport, and its name
According to the 2011 census, the Northern Sporades have a collective population of 13,798 inhabitants. Of these, nearly half (6,610 inhabitants) reside in Skiathos. However, in addition to housing its permanent residents, the idyllic Greek island is also a rather popular holiday destination among sun-seeking European tourists.
As such, Skiathos sees numbers swell significantly during the summer months. Some of these tourists might arrive by sea, on scheduled ferry services from mainland cities, including the likes of Volos. However, most of the island's visitors arrive by air at the island's Alexandros Papadiamantis Airport (JSI). This facility is named after one of his generation's most influential Greek writers.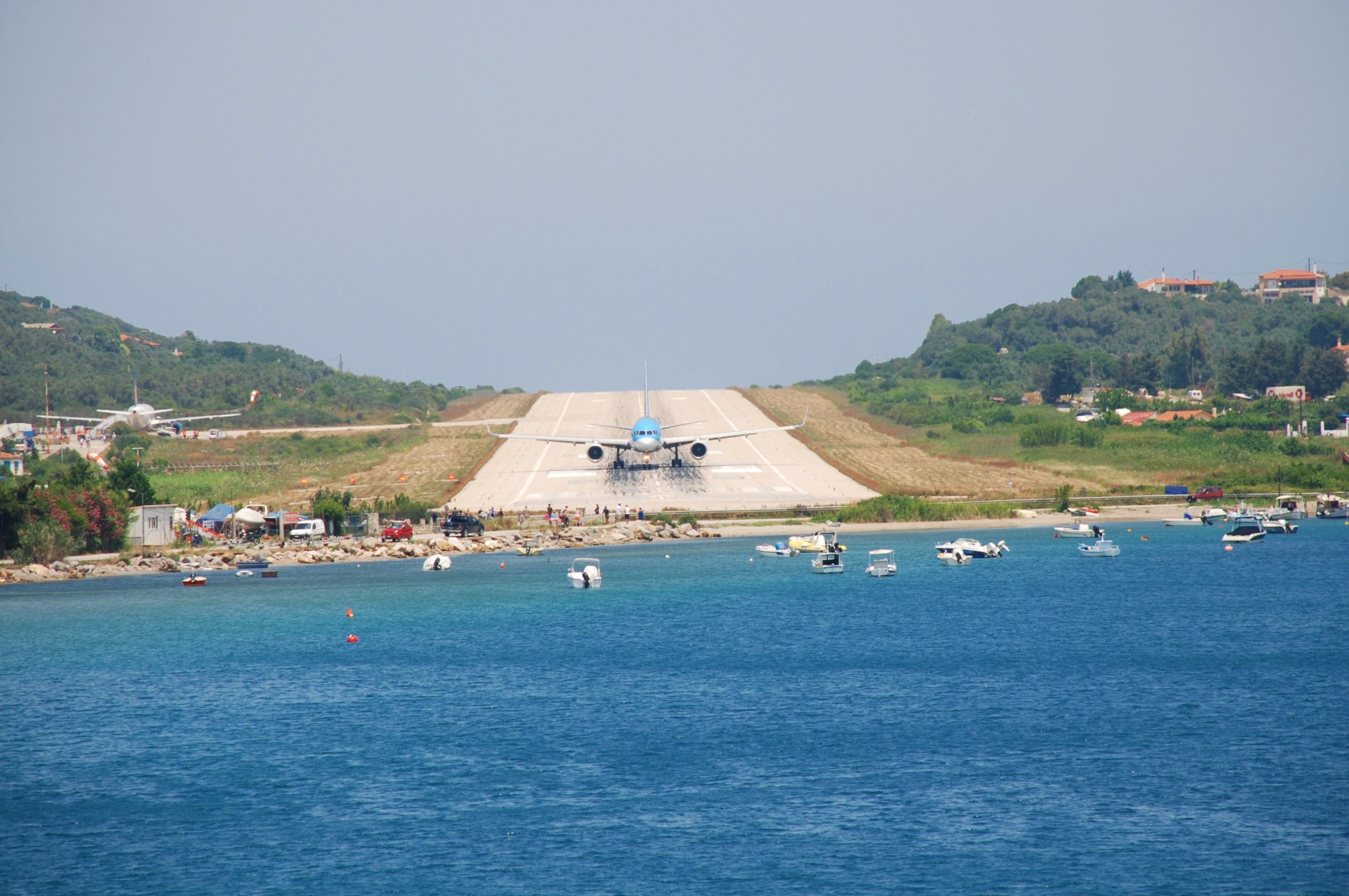 Papadiamantis is also one of Skiathos's most notable former residents, and, perhaps unsurprisingly, the beautiful island features extensively in his work. He died of pneumonia aged just 59 years old in 1911, but his legacy has lived on in the form of various translations of his work. Another way that his legacy continues to have a presence in Skiathos is the fact that the island's airport bears his name.
How the airport came to be
Skiathos Airport has been operational for over half a century, opening in 1972. It is situated close to the island's most significant center of population, the eponymous city of Skiathos. This settlement had a population of 4,883 at the time of the 2011 census, representing nearly 75% of the island's inhabitants.
While the need for an airport to support the island's booming tourism industry was abundantly clear at the time of its construction, building it was a challenge. Not only is Skiathos a small island, but its terrain is particularly rugged. This meant that there were few options for pieces of land large and flat enough to build the airport.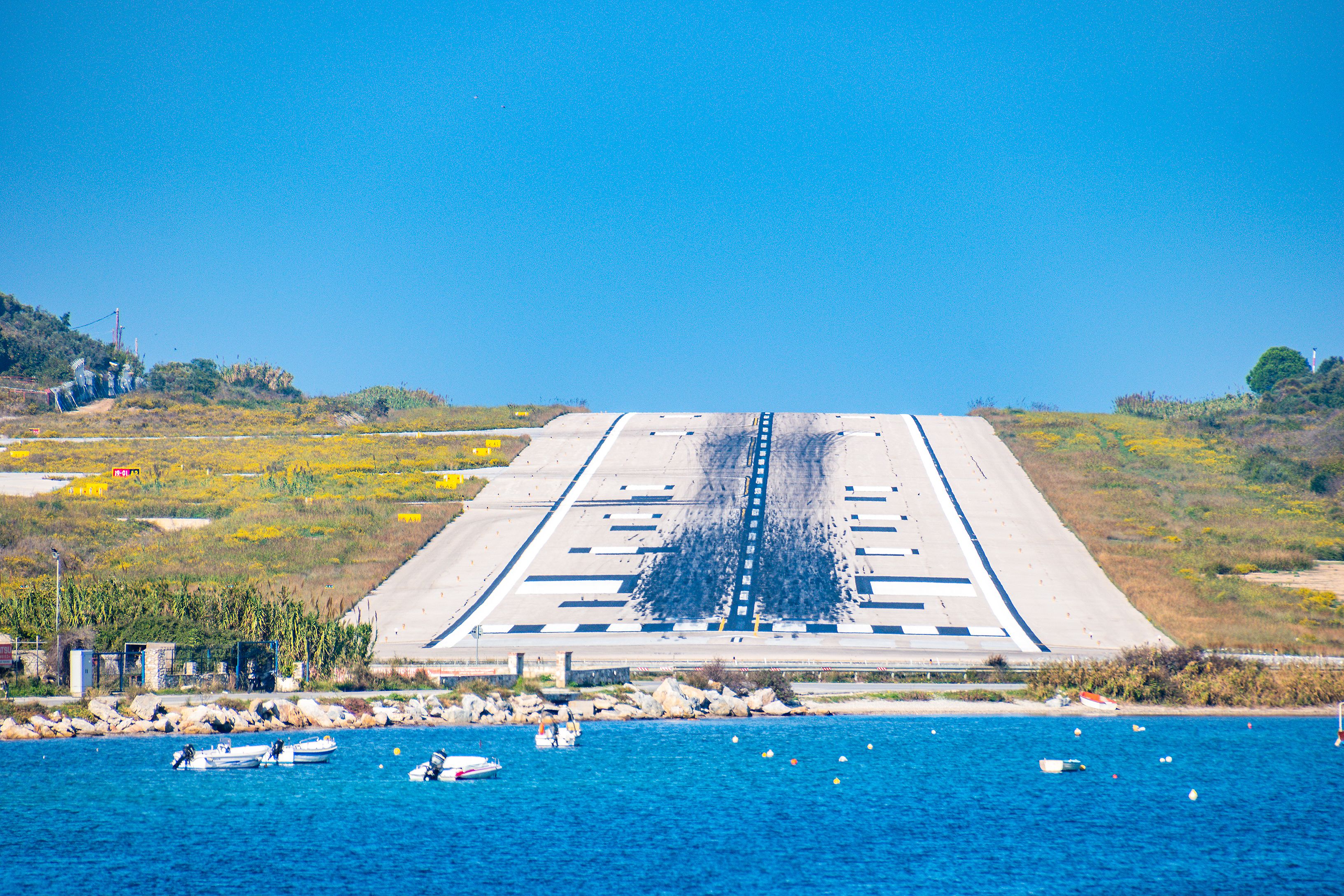 As such, its architects eventually had to develop a rather novel solution. They ended up electing to reclaim a strip of land from the sea between Skiathos and the smaller, neighboring island of Lazareta. This effectively joined the two individual land masses to create a larger single island. However, crucially, it also provided a large and flat enough area for the airport and its runway to be built upon.
Limited year-round service
Of course, the coronavirus pandemic meant that Skiathos has experienced a couple of much quieter summers than usual in recent years. Indeed, the airport reported having processed just 88,916 passengers in 2020. This represents just 20% of 2019's figure of 446,219 passengers. In 2021, this figure climbed to 206,007, and a strong recovery in 2022 saw the airport achieve an all-time high of 511,611.
The airport had previously reported continuous growth year-on-year since 2010, when it processed 230,489 passengers. Between then and 2019, it had nearly doubled this number before COVID-19 brought the airline industry to an almost complete halt. It will be interesting to see what its total ends up being this time around, given that, as of August 2023, it had already handled 453,823 passengers.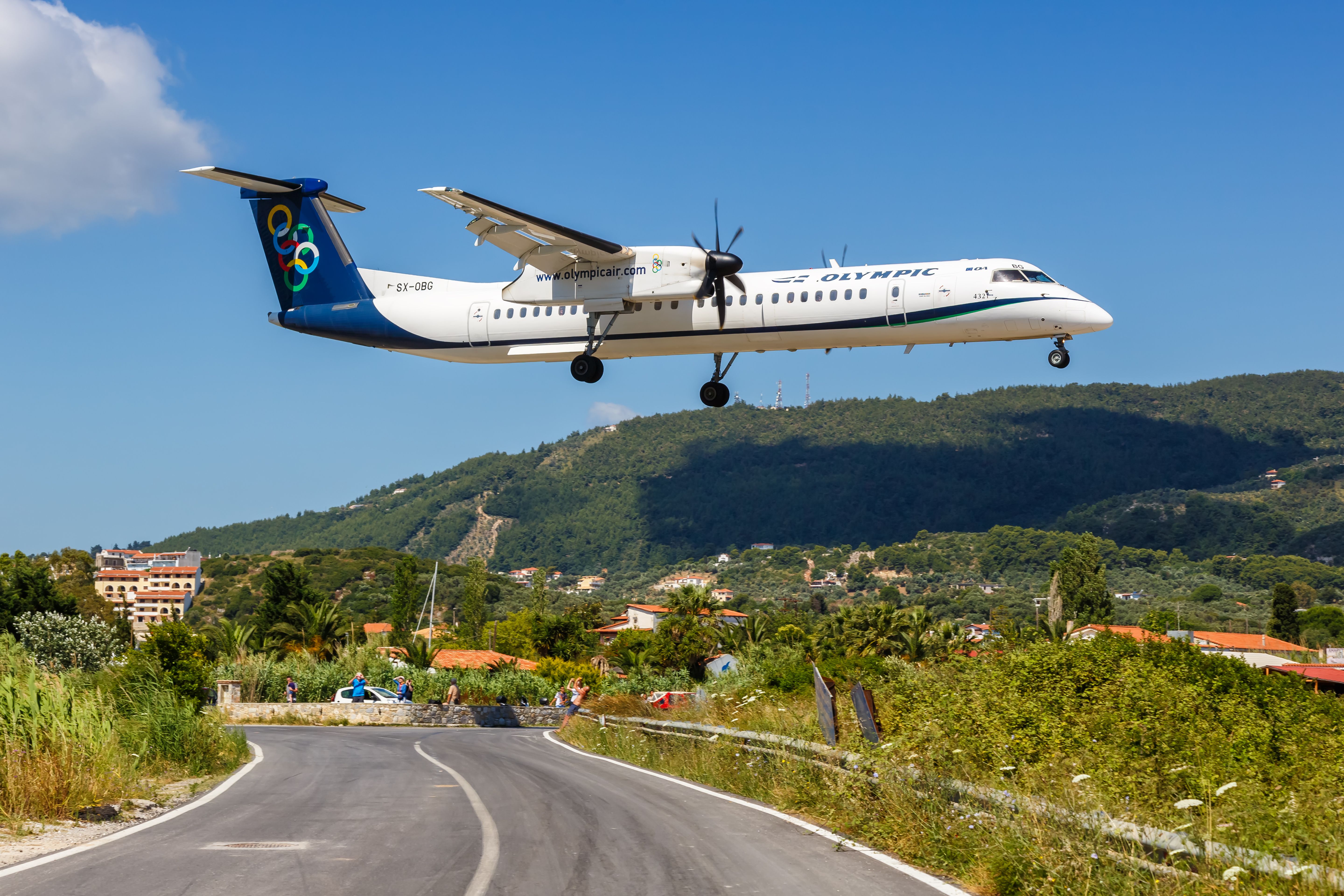 In terms of year-round services, Skiathos sees minimal traffic, which is understandable, given the island's emphasis on summer tourism. The only destination served all year is the Greek capital of Athens, with Olympic Air and Sky Express operating these flights with ATR 42/72 and de Havilland Dash 8 turboprops.
Much busier in the summer
However, the airport generally has much more on its plate during summer. A wide range of low-cost, leisure, and even full-service airlines operate scheduled and charter flights from dozens of European destinations to the Greek island. As it happens, the United Kingdom is one of the airport's busiest markets.
Indeed, carriers such as BA Cityflyer, Jet2, and TUI serve Skiathos from several airports across England and Scotland. In years gone by, Monarch (with whom I flew to the island in 2009) and Thomas Cook also had a presence.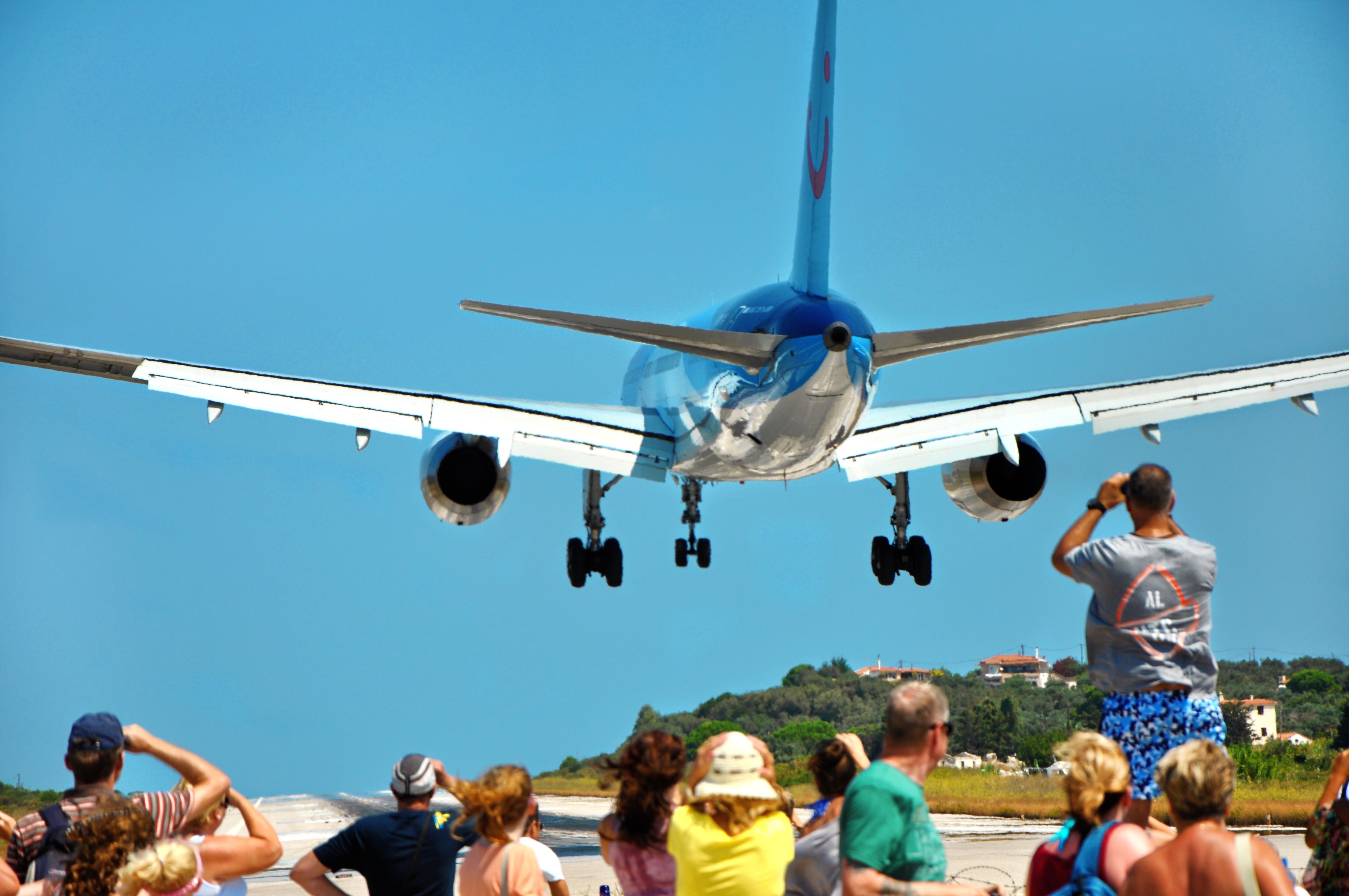 Other countries with air connections to Skiathos include Austria, Cyprus, the Czech Republic, France, Germany, Italy, the Netherlands, Romania, Serbia, and Switzerland. Scandinavia is also well served, as Danes, Norwegians, and Swedes have a choice of both SAS and charter carrier Sunclass Airlines for their journeys to the island from Copenhagen, Gothenburg, Oslo, Stavanger, and Stockholm.
A planespotter's paradise
Due to the limited nature of where the airport could be built, Skiathos Airport had to compromise on a relatively short landing strip. Indeed, its runway (with headings 01/19) measures just 1,628 meters in length (5,341 feet long). As you might expect, this limits the size of aircraft that can use the airport.
However, for planespotters and even the general public, this factor increases the spectacle of the aircraft that can arrive and depart. This is because, on landing, planes make a very low approach into Skiathos to touch down near the end of the runway. This mitigates its minimal length while allowing avgeeks to get close photos while feeling the power of the just aircraft above them.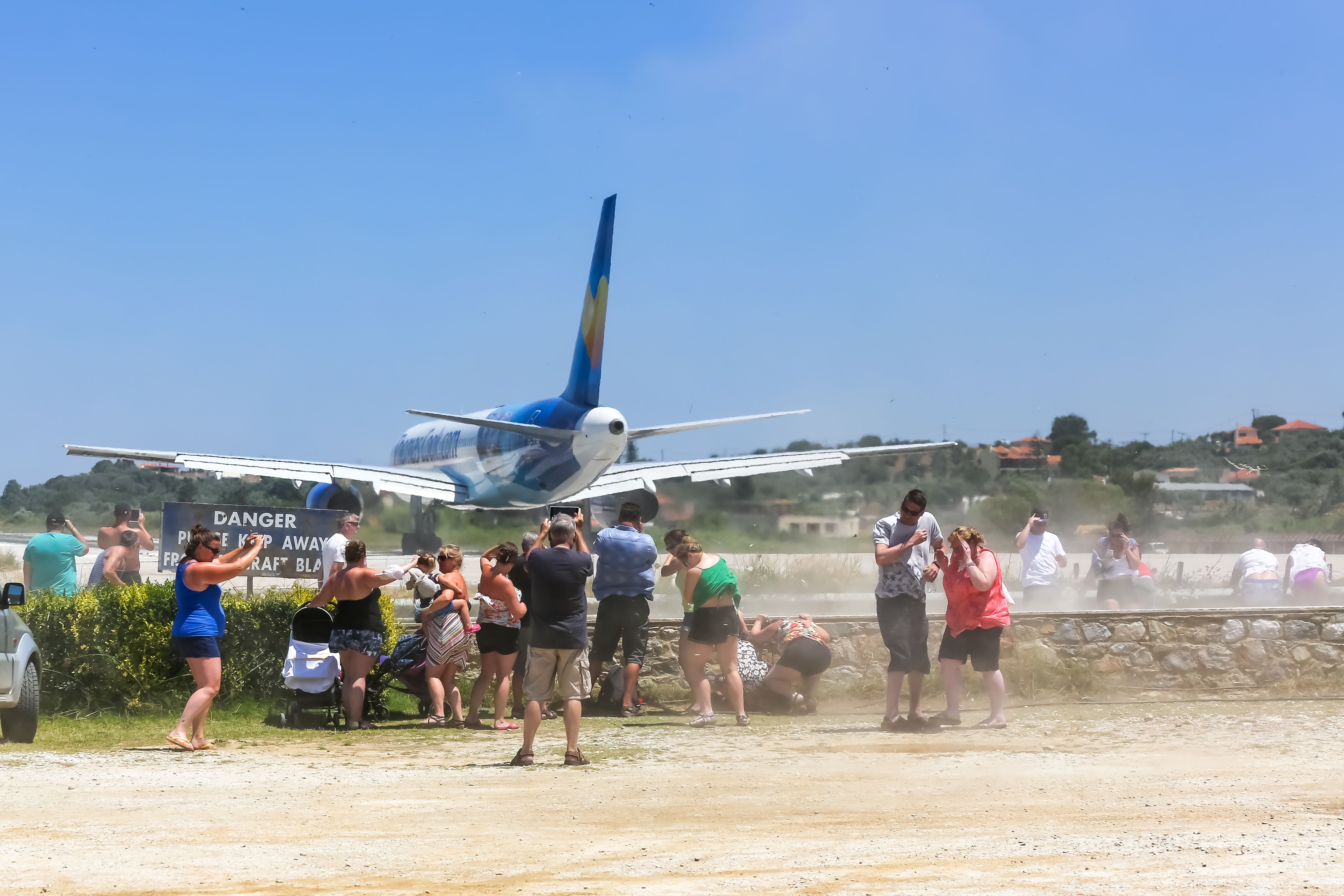 This phenomenon is amplified when it comes to departing aircraft, which often have to make powerful takeoffs when departing from the airport. This ensures they safely get into the air before reaching the end of the facility's relatively short runway. There is minimal clearance between the runway and the road and beach at the end of it, meaning that spotters are subjected to a strong jet blast.
The European St Maarten
These impressive phenomena have made Skiathos known as the 'European St Maarten.' This name refers to Princess Juliana International Airport (SXM) in the Caribbean. St Maarten is famous among avgeeks for similar reasons, and it even used to see service from Boeing 747s operated by Air France and KLM, with their presence reflecting the island's half-French, half-Dutch makeup.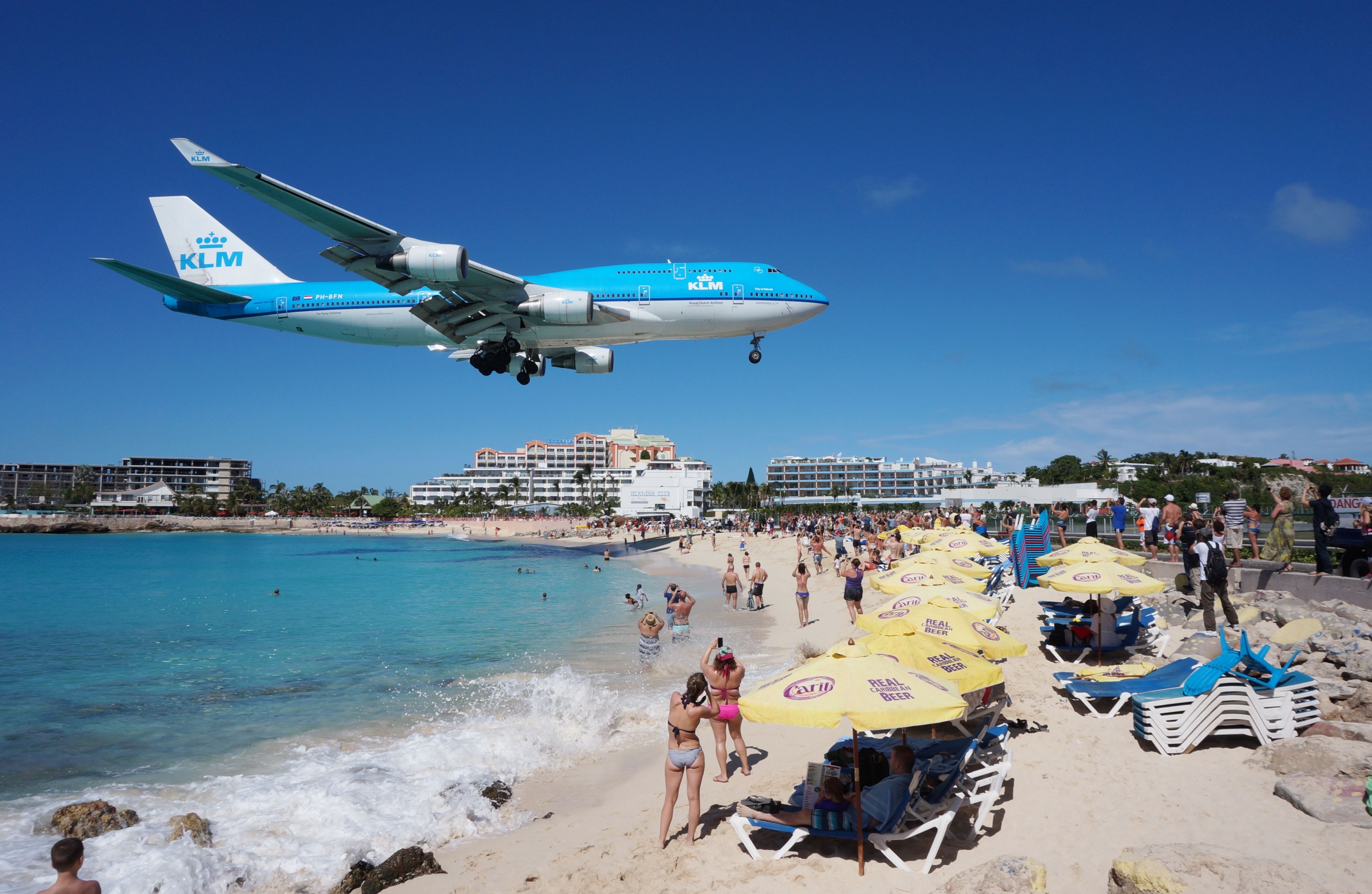 While being up close to a powerful jetliner may be an awe-inspiring experience, the risks of jet blasts can be tragic and deadly. Indeed, according to the BBC, a woman was fatally injured by the force of a departing aircraft's jet blast in St Maarten in 2017. As such, avgeeks should be careful when spotting in such environments.
What do you make of Skiathos Airport? Have you ever flown into or out of the 'European St Maarten'? Let us know your thoughts and experiences in the comments!
Sources: BBC, Heather On Her Travels, Skiathos Airport
This post was brought to you by Simple Flying. Written By Jake Hardiman.