UPDATE: 2/11/2019 Marriott has decided that it will only old rates on  honor points advance reservations if paid in full by March 5, 2019. It is a very shady thing for them to do, but their terms and conditions, which require a law degree to understand, allow them to make changes at any time.
Marriott and Starwood completed another step of their back-end integration earlier this week. As a part of that integration you can now use Marriott points for Points Advance reservations and use your travel package at all Starwood Preferred Guest brands.
Points Advance are great because it allows you to book a reservation even if you don't have the required number of points in your account yet. The points get deducted a week before arrival, or you can call Marriott before then if you've earned the required number of points. Marriott's new award chart has a Category 8 but it hasn't officially kicked in yet, Category 8 room rates start at 85,000 points per night. Marriott has been allowing you to redeem future Category 8 hotels at Category 7 pricing (60,000 points per night), including Points Advance reservations. That's a savings of 25,000 points per night, which is an AMAZING deal, especially when you take into consideration the cost of some of these rooms like the one below.
A Marriott representative told me earlier this week:
"If a customer makes a points advance reservation under category 7 rates and then the hotel becomes a category 8, Marriott will honor the original rate. While we haven't announced when category 8 rates take effect, we recommend our members  order the certificate before Category 8 takes effect – we will provide ample lead time – with the main benefit being that the member can attach it themselves with no phone call to our Customer Engagement Centers.  If the member doesn't have the points by the time category 8 rates take effect, but before their stay, they can only attach their certificate at the original point price by calling the Customer Engagement Centers. "
When Marriott originally sent me that note, we didn't know what date Category 8 would start. Most people assumed that Category 8 would be coming on January 1, 2019 but Marriott just confirmed that it wont be arriving until sometime in March 2019 via an update of their award chart.
You can book Marriott hotels up to 350 days in advance. Based off that information you can book Category 8 hotels at Category 7 pricing for stays through at most February 2020 and maybe even into part of March 2020, as long as you book before Category 8 starts.
The current and future award chart looks like this: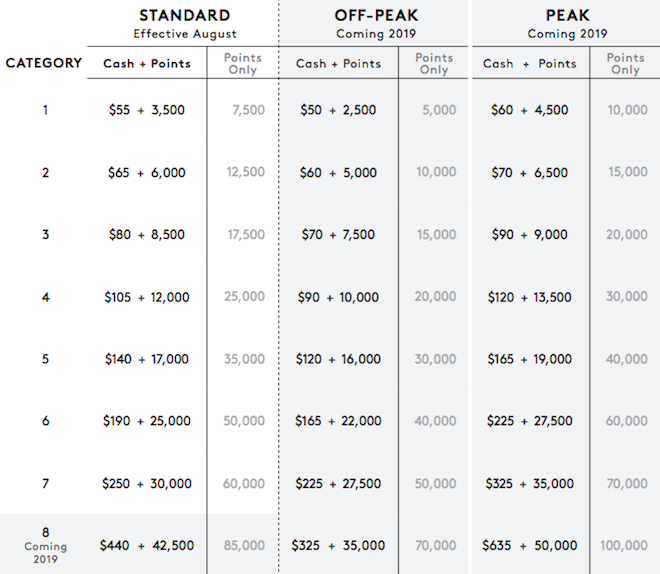 What are you waiting for? You only have until March 2019 to book your aspiration Category 8 hotel at Category 7 pricing.
(H/T to One Mile At A Time)
Feature Image via Marriott, Le Méridien Bora Bora