Advertising Disclosure: Many of the links that appear on this website are from companies which SamChui.com may receive compensation. This compensation may impact how and where products appear on this site (including, for example, the order in which they appear). The site does not review or include all companies or all available products.
Its been a while since we've posted a really great business class deal from United States. We usually see a couple of business class fares in the low $1-2k range departing the US for international destinations. So far this year its been pretty quiet as a part of an unfortunate trend towards higher airfare. Thankfully, today you decided to  read SamChui.com, and we are committed to finding you the most amazing deals.
The Deal
This deal hinges on fact that you must fly from Miami to Lima on LATAM. From Lima you can connect to a variety of south american cities also on LATAM.
Depart: Miami
Arrival: All Over South America
Available From:  May 2019 – December 2019 
Minimum Stay:  Though a Saturday night  (as little as 1 night if you came in on a Saturday and left Sunday) 
Maximum Stay: None
Must be booked 45 days in advance
1 Free Stop Over Is allowed and 1 additional stop over for $125 
How to find this deal?
The best way to find the fare is by searching Google Flights. Click this link to go directly to the deal and just play around with the calendar!
Whats the Business Class Product like on board LATAM's 767's?
The LATAM current 767 business class product is very old. It's set up in a 2-2-2 configuration. Thankfully, the seats do go fully flat. 
The good news is that these seats are getting phased out and quickly. LATAM has committed $400 million dollars to refreshing 200 planes in its fleet, including the 767. The new LATAM business class looks light years ahead of the old product.
LATAM's very first 767 just began flying with these new Vantage XL seats as of about 1 week ago and the plane flew to Miami and back for its inaugural flight. You can track the plane via registration CC-CXC. The plane is not currently scheduled on one specific route yet. The only way to tell if your plane with have the newest seats is to look at the seat map. If it's staggered like below, your plane has the new seats.
Where should I credit this ticket?
Check out where to credit. These tickets should book into fare code I, for some great earnings on Alaska Airlines Mileage Plan. Other great places to credit these miles include American Airlines, as long as you don't book the ticket directly with them!
A non-elite American Airlines member should earn ~ 6500 Elite Qualifying Miles, ~1300 Elite Qualifying Dollars, ~ 6500 Redeemable miles.
How should I pay for this ticket?
I recommend booking this deal directly with the Airline as that is the safest way to ensure that your tickets are in good hands.
The Platinum Card® from American Express offers 5x points on all airfare purchases made directly with airlines and Amex. If you purchased this ticket from LATAM.com or with AmexTravel.com you should earn around 6,000 membership rewards points worth around ~$120 depending on how you value American Express Membership Rewards Points. You can learn more about The Platinum Card® from American Express here. Additionally, Card members have access to the American Express IAP discount program which could lead to an even better deal on these flights.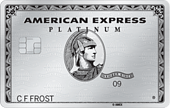 If Amex isn't your card of choice the Chase Sapphire Preferred offers 2x points on all airfare purchases. Regardless of where you purchase this ticket, if you pay with the Chase Sapphire Preferred you should earn a little less than 2,500 Chase Ultimate rewards points worth around  ~$55 depending on how you value Chase Sapphire Rewards Points.
For those of you looking to make a stopover in Lima, you may only be able to book the trip with a 3rd party service like Orbitz. Services like ITA Matrix are not showing the correct pricing yet.
Are you planning on booking one of these amazing deals? Hurry because it wont last long!
Editorial Note: Opinions expressed here are the author's alone, not those of any bank, credit card issuer, airlines or hotel chain, and have not been reviewed, approved or otherwise endorsed by any of these entities.
Comment Disclaimer: The responses in each article are not provided or commissioned by the bank advertiser. Responses have not been reviewed, approved or otherwise endorsed by the bank advertiser. It is not the bank advertiser's responsibility to ensure all posts and/or questions are answered.