Cleaner Map for those who like interactive maps.
Link to download interactive map on phone: https://drive.google.com/open?id=1F5HTcnsQdB2HjbD87X06x3MYmm-ReOeR&usp=sharing
Following on from our Abu Dhabi Guide article, we now have our Dubai Guide. The map above may seem dense but Dubai is a city absolutely full of things to see and do. For reference, it takes me about 3-4 days to show someone around Paris and London (major sights + general vibe), it takes me only 2 days in Abu Dhabi (only because you can spend a whole day in the theme parks) but for Dubai, I ask people to budget at least 5-8 days at a minimum!
I ran out of primary colours hence most colours have been used twice (once in the North cluster of the map and once in the south cluster). Keep in mind, this is not the whole city, it is only the focused part that is relevant to tourists. The Blue line running all along the length of the city in the middle is the main metro line (RED line, hence I coloured it blue in first map and got it right on the second map…). This is the main line of relevance for tourists (there is only one other line, Green). The blue line also tracks the main arterial road, SZR (Sheikh Zayed Road) which is a very wide (upto 16 lanes in places) highway running across Dubai up until the end of DIFC and start of Bur Dubai (intersection of North Brown and North Red areas).
The distance from the bottom of the map (near Marina and JLT) to the airport at the top is approximately 30 kms. Yes, Dubai is huge. Infact, this isn't the full length of Dubai since it extends several kms to the south (towards the other airport, DWC, an area not very relevant for tourists and primarily industrial and residential) and a few kms beyond the northern airport (DXB) before Sharjah begins.
Let's start from the top down:
Deira (Light Green, North, 1)
Deira is old Dubai, not the part you ever really see. It is primarily a lower/middle income residential area but also has a huge concentration of cheaper hotels and is a very lively place, having been the "Downtown" 25 years ago. This is where to go if you would like a taste of Dubai as it was before the skyscrapers took over. Deira is home to a large South Asian and Filipino expat population (and consequently, full of outlets from their cuisine). The Deira bank of Dubai creek has some of the best views of the skyscrapers in new Dubai.
Major Tourist Spots:
Gold Souq – one of the best Gold markets in the world
Spice Souq – market for spices and perfumes
Dubai Creek – Pay the price of a water bottle for a traditional abra/dhow (boat) ride
Near Deira
Dubai Safari Park – great zoo with Safari experience
Dragon Mart – Massive wholesaler market with special emphasis on Chinese goods/material (goto the original Dragon Mart, not the adjacent Dragon Mart 2, which is a conventional mall)
Mirdiff Mall – Escape the crowds of Dubai mall, and go here instead for a large luxury conventional mall experience devoid of tourists. One of the top 4 malls in Dubai (others being Dubai Mall, Mall of Emirates and Ibn Batutta)
Bur Dubai (Red zone, North, 2)
Bur Dubai is technically a much larger area south of the creek than shown on the map but locally, people mean the shaded area when they say Bur Dubai (and are referring to the areas of Karama, Mankhool, Jafiliya, Raffa or even Satwa). This area is similar in feel to Deira with a large South Asian population and is primarily on the lower/mid range of the price spectrum. It is also home to the oldest heritage districts (Fahidi/Bastakiya). If you want to see what Dubai was like 50 years ago, come here. This was also the 'downtown' 15 years ago and is home to some of the densest parts of the city.
Major Tourist Spots:
Al Fahidi/Bastakiya districts – charming heritage area with historical architecture and gorgeous narrow streets.
Al Seef at Dubai Creek – beautiful creekside retail and F&B development that blends the modern and historical sides of Dubai
Dubai Frame – Tourist site and observation point
Cable Car
Healthcare City (Pink zone, North, 3)
This is the area for healthcare tourism in Dubai (Dubai is one of the biggest global healthcare tourism destinations!), this place has a high concentration of reasonably priced 5 star hotels.
DIFC + SZR (Brown area, 4 and 5)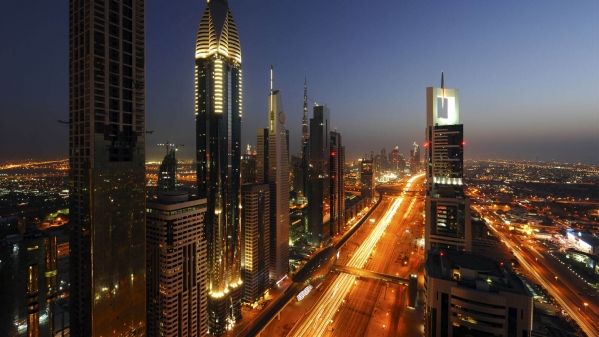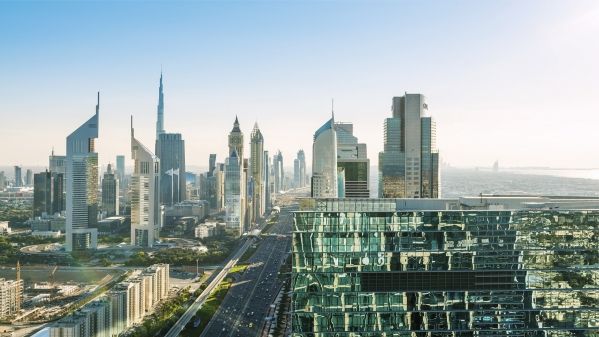 DIFC stands for Dubai International Financial City
SZR stands for Sheikh Zayed Road
DIFC is located on the east/south side of the blue line within the brown area and is the main financial center of Dubai, populated by offices and HQs of financial firms, banks, law firms and other professional services firms. This constitutes the bulk of the actual 'Downtown' of Dubai as per the American use of the term (together with Media/Internet City, covered later). Locally, people call this area by its acronym, DIFC, never by its full name.
SZR is the road represented by the blue line starting from this zone, all the way to the bottom of the map. While technically, the whole thing is SZR, if someone ever says SZR as an area without specifying where, they usually mean this strip full of 5 star hotels on each side. This strip is part of the famous Dubai skyline.
Major Tourist spots:
This whole strip of SZR is worth seeing for the architectural diversity of the skyscrapers.
Downtown (Black area, North-central cluster, 6)
This is where the Burj Khalifa, Dubai Mall and the Fountains are located along with the Boulevard (technically named the Sheikh Mohammed bin Rashid Boulevard, or Boulevard for short). This is tourist central and is not the financial center in the American sense of the word 'Downtown'. Neither is it the most lively social hub of the city (that would be Marina, covered later). This area has limited international chain hotels (though there are several in the immediate vicinity) and the local 5 stars located here tend to be very expensive. This area continues the skyscraper mania from SZR/DIFC earlier.
Major Tourist Spots:
The whole of downtown is one massive tourist spot
Burj Khalifa – tallest building in the world, be sure to go to the observation deck at level 124/125. Avoid the VIP one at Level 148, the views are exactly the same. Definitely (!) try the VR experience at 125.
Dubai Mall – largest mall in the world by some metrics, amazing zoo and aquarium experience which is a must see.
Dubai Fountains – largest dancing fountains in the world
Souq Al Bahar – heritage design market
Old Town – beautiful residences in heritage Arabian architecture
Boulevard – main road encircling Downtown with lots of great views, retail and F&B outlets geared towards visitors.
Dubai Opera
Phew!
Business Bay (Green zone in North cluster encircling the Black Downtown zone, 7)
Step 5 metres outside of the Boulevard and you are technically in Business Bay. This area is much larger and encompasses most of the 'downtown' business areas of Downtown (apart from Finance/Banking/Law, which is in DIFC and Tech/Media which is in Media+Internet City). It is also high end residential with a lot of skyscrapers and lots of more reasonable (than Downtown) international chain 5 star hotels.
Major Tourist Spots:
Downtown!
La Perle water theatre – one of the best set/stage designs
Jumeirah (yellow area along the coast, 9)
The word Jumeirah is the most over used word in Dubai and is a part of several localities, businesses and establishments. However, when someone says Jumeirah without any context, they mean the coastal area as shown on the map. The area just behind the coast is largely low density, upscale residential and full of villas but the actual coast has a lot of ultra luxury hotels (Bvlgari etc). All hotels here have sea views or stunning skyline views on the non-sea side.
Major Tourist spots:
La Mer – beautiful and picturesque seafront promenade with F&B outlets and beaches
Citywalk – Gorgeous open air F&B complex and street mall intended to mimic British architecture
Green Planet – Rainforest ecosystem dome with lush greenery and lots of small wildlife
Madinat Jumeirah – must visit heritage architecture canal complex full of retail, F&B and ultra luxury hotel options, somewhat like an Arabian Venice
Burj Al Arab – the ultra famous iconic hotel
Wild Wadi waterpark – probably the best waterpark in Dubai
Hipster/Arts zone (8)
This area gives you a break between the 2 different skylines of Dubai and is mostly low density and low rise with very little relevance to tourists….except Al Quoz (the official name of the area) is home to Dubai's hipster/arts/cafe/plays/comedy scene and the industrial looking warehouses actually contain stunning art galleries, steampunk displays, record shops, boutiques, cafes and drama clubs.
Barsha + Barsha Heights (Red zone in South, 10 and 11)
Barsha and Barsha Heights are full of good upscale reasonable hotel options and a great place to stay if you want to stay closer to the South of Dubai without blowing your budget. Both are dense enough to feel lively with plenty of F&B options. Barsha is primarily low rise whereas Barsha Heights is high rise (hence the name). Mall of Emirates, with the indoor ski slope, is located in Barsha. Make sure you stick close to the metro line as the density and buzz drops off very quickly further inland (as it becomes more residential).
Major Tourist Spots:
Mall of Emirates (Ski Dubai is located here)
Nearby Attractions:
Global Village – massive expo complex of entertainment, leisure, retail, F&B and themed markets reflecting their origins. Open only during Winter months
IMG World of Adventure – Completely indoors enclosed theme park – except the roller coasters of course. It is the best theme park for summers since it is enclosed but in good weather, the complex of DXB Parks, covered later, is much larger and better.
Internet City and Media City (Black zone in South, 12)
Dubai Internet city and Media City are the other major component of Dubai's commercial hub (the other being the DIFC-Downtown-Business Bay belt). This area is home to the regional HQs of all the major Tech, Media, Advertising and related companies.
Major Tourist Spots:
None within the limits of this area, but plenty surrounding it nearby
Palm (brown zone in south cluster, 15)
Technically Palm Jumeirah but referred to generally as the 'Palm'. This area is very upscale residential (massive billionaire mansions) in the fronds (the 'branches' of the tree) and is full of luxury beach hotels in the perimeter surrounding the tree with the iconic Atlantis hotel at the tip of the Palm. Hotels here are some of the most expensive in Dubai and since you are massively increasing your commute by staying on the perimeter, I would not recommend staying here. However, from West/South Palm and from the western trunk (central portion) of the Palm, you get amazing views of the Marina skyline (which in my opinion, is better than the Downtown/SZR skyline and the best views in Dubai).
Major Tourist Spots:
Atlantis hotel – in itself a tourist spot
Aquaventure water park and Lost Kingdom aquarium – neither is the best in Dubai in my opinion, though both are great in their own right. The best water park is Wild Wadi in Jumeirah, covered above. The best aquarium is Dubai Mall, covered above.
The Pointe – F&B complex with water fountains near Atlantis, opening late 2018.
Dubai Marina (Dark Green zone, south cluster, 13)
Saving the best for last perhaps. This is the social hub of Dubai, there are several others but this is probably the biggest and baddest of them all. The place is full of luxury hotels, beach resorts, clubs, F&B outlets etc. This place is probably where you want to stay if you want a lively beach resort with an excellent location (quieter ones can be found on the Palm and more luxurious ones in Jumeirah but the prices keep increasing with both of those). This area is also full of Western expats and has a corresponding vibe. The side of Marina closer to Palm and Media city constitutes the most beautiful skyline of Dubai in daylight (due to the colours and architecture of the buildings). The beachfront skyline towards the south is very boring in comparison.
Major Tourist Spots:
Ain Dubai – the largest, of course, Ferris wheel in the world, opening 'soon'.
The Walk – gorgeous retail and F&B open street boulevard.
The Beach – beautiful F&B beachfront complex along with the actual beach.
Barasti – massive beachfront bar.
The skyline on the North side (towards Palm/Media city)
DXB Parks – South of Marina, not nearby but closest to Marina compared to other major areas (the largest theme park complex in UAE with MotionGate, Legoland, Legoland WaterPark, Bollywood Parks and Riverland which is built in stunning medieval French town architecture! Best theme park complex in the region in winter months, avoid during summer because it is largely outdoors (whereas IMG, covered earlier, and Warner Brothers + Ferrari World complex in Abu Dhabi nearby are fully enclosed).
JLT (Light Green zone, south cluster, 14)
Marina's reasonable high rise residential neighbour. The hotels here are priced lower and still have easy access to Marina, the metro line, as well as dense network of F&B options right below.
Major Tourist Attractions:
Dubai Marina and all its attractions.
Best hotels in Dubai:
Dubai is a truly massive market for hotels with over 100 5 star properties and more being added at a frentic pace. We are working on follow up articles to evaluate these options indepth. However here is a short list of suggestions:
Some of the best Marriott options are Le Royal Meridien, Renaissance, La Ville, JW Marquis, Ritz DIFC, Sheraton Grand and Aloft Deira, roughly in that order. Al Maha and Lapita are the best options right outside the city.
Best Hilton options are Waldorf Palm and Conrad (but they don't match upto the Marriott options, neither do most of the other chains, you should seriously consider ditching brand loyalty here).
Best IHG is Intercontinental Marina.
Best Hyatt is Grand Hyatt (more recently renovated than Park) but both have sub par locations.
Best Radisson is Radisson Blu Media city or Radisson Blu Waterfront (newer).
Best Wyndham is Wyndham Dubai Marina or its newer nearby West Bay property (opening in few weeks).
Best Accor are Sofitel Downtown and Sofitel Palm, Fairmont Palm and finally Sofitel Marina in that order. Special mention for Ibis Styles Jumeriah for being cheap and excellent.
However, the best hotels in Dubai are not part of international chains.
Anantara Palm and Jumeriah Al Naseem are two of the best resorts from smaller chains (and two of the best overall, especially for hard product).
Nikki beach, Jumeirah Al Seef (creek), Zabeel House Al Seef (reasonable price) are some of the great boutique options.
The 2 'One & Only' resorts and Four Seasons Jumeirah Beach are the best ultra-luxury options.
Conclusion:
Save a LOT of days for Dubai….OR make multiple trips. It is truly one of the densest destinations (in terms of attractions, things to see and do) for a tourist with something for everyone. You can also check out a guide to Abu Dhabi here.
Drop a comment with any questions!